As part of our efforts to celebrate the centennial at the library, we will be hosting a yearlong history series focusing on the "history of" different partner organizations in Lincoln County. Held on the third Wednesday of each month from September 2019 through September 2020, these programs will provide an opportunity for library partners to share their history with our community.
Lincoln County Sheriff's Office
Curtis Landers
Wednesday, December 18, 2019
6:00 p.m.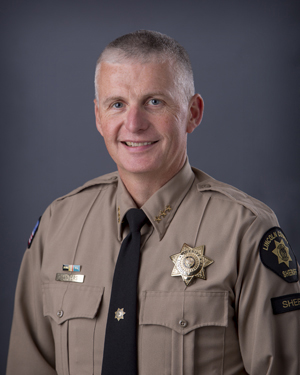 While most people recognize the sheriff as the chief law enforcement officer for the county, they would be surprised to know that the office of sheriff has a proud history that spans well over a thousand years, from the early Middle Ages to our own "high-tech" era.  We will go over where did the title "Sheriff" come from?  What makes the Office of Sheriff unique in law enforcement? Learn about this, and more about your local Sheriff's Office.
Sheriff Curtis Landers began his law enforcement career with the Lincoln County Sheriff's Office in 1987 as a Records/Property Clerk. Since then, he has been promoted to Corrections Officer, Patrol Deputy, Patrol Sergeant, and Administrative Lieutenant. As Administrative Lieutenant he responsible for obtaining and administering grants, policies and procedures, sheriff's office training, risk management for the Sheriff's Office, and overseeing the County's Emergency Management program. On June 1, 2016, the Lincoln County Board of Commissioner appointed Landers to complete Sheriff Dotson's final year of his third term when he retired. Landers was elected in November 2016 and is currently serving his first 4-year term.
---
January 15, 2020: Oregon Coast Aquarium, Kerry Carlin-Morgan

February 2020: Oregon Coast STEM Hub, Lisa Blank

March 18, 2020: Newport Chamber of Commerce, Chamber Panel

March 25, 2020: United States Census, Jim Graham *Special Program with different date

April 15, 2020: Newport Fire Department, Rob Murphy

April 22, 2020: Sister City, Sachiko Otsuki *Special Program with different date

May 20, 2020: Newport Police Department, Jason Malloy

June 17, 2020: Oregon Coast Council for the Arts,Catherine Rickbone

July 15, 2020: Lincoln County Library District, MaryKay Dahlgreen

August 19, 2020: Habitat for Humanity, Lucinda Taylor

September 16, 2020: City of Newport, Spencer Nebel

This history program is free and open to the public.