The following Newport Parks & Recreation facilities are open in Phase 1 of the City of Newport's Reopening Plan:
- All park open spaces and walking trails (open immediately)

- Parking lots of all Parks (open immediately)

- Frank Wade Park Community Gardens (open immediately)

- Skate Park (open immediately)

- Newport Recreation Center (open date to be announced)
Other Newport Parks & Recreation facilities (including Aquatic Center, playgrounds, sports courts & fields, gazebo and picnic shelters) are closed until Phase 2. The 60+ Activity Center is closed until Phase 3.
Once Phase 1 is successfully completed, and Lincoln County is approved for Phase 2, we hope to reopen more recreation facilities soon afterwards. Some reopenings in Phase 1 and Phase 2 will have limited access. Details to come.
We ask the public to adhere to the Governor's guidelines in utilizing these spaces:
- Feeling Sick? Stay home

- Remain 6 feet apart from anyone not in your household

- Use areas at off-peak times

- No group gatherings larger than 25 people

 
Newport Parks & Recreation is planning to reopen our parks, facilities, and programs in a Three-Phase Plan during the COVID-19 panademic. Using the State of Oregon COVID-19 Reopening Plan as a foundation for decision making, this plan reflects the recommendations of the Lincoln County Health Department, Oregon Health Authority, and Center for Disease Control and Prevention (CDC) guidelines. This plan will be adapted or edited to respond to developing concerns related to the panademic and will be used to guide decision making, planning, and communication. To see the Phased Reopening Guidelines, click the links below.
We thank the community for their patience and understanding we progress through our reopening phases. Please remember our plans are fluid and may change at any time.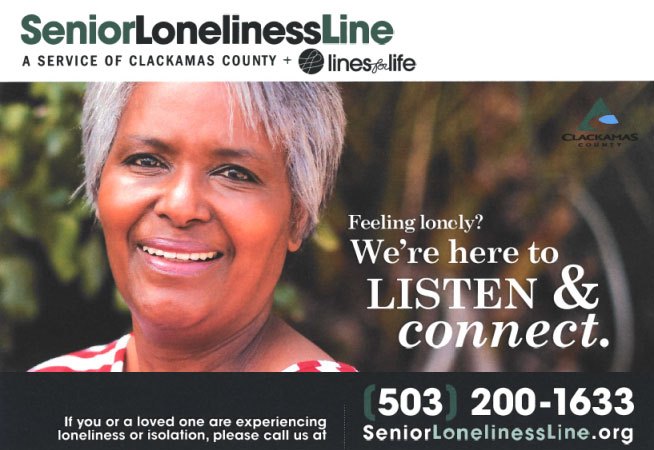 What Matter Most - Your Health!
We all know the importance of keeping healthy and active so we have included links to some popular classses. Try these classes at home and let us know what you think.
YUM... Sauerkraut Cooking with Evelyn
Tasty Foods from the Pantry Salsa Session
Vision Statement
Created by support groups, volunteers and staff, to make accessible a humane and meaningful center for continued growth and joyful opportunities where everyone is visible.
Mission Statement
To reaffirm the dignity and value of the older adults in our community through caring service with opportunities for social interaction, recreation, support services, education, volunteerism, and community action.